Ryukyu Buyo Dance
1st. show 19:00~19:30(5 songs)
2nd. show 20:00~20:30(5 songs)
*It's not round system by show,please enjoy two shows.
*Photography is allowed during the show.
Ryukyu Dancing
There is two types of dancing called Ryukyu Dance nowadays in Okinawa. One is classical dance which danced in the palace for king of Ryukyu and his guests in Ryukyu Kingdom era in 18th century, another is folklore dance which dance of daily life and customs after Meiji era. Ryukyu dance is usually choreographed with its lyrics with proper costume by songs. Some movement of Ryukyu dance is coming from Karate, good dancers were also well trained Karate fighter. Ryukyu dancers enter from left and dance in a middle of the stage, it is because it used to be dancing in ZASHIKI which is guest dining room to entertain guests with meal and drinks.
Ryukyu Dancing was recognized as Important intangible Cultural Property in 2009 by it historical value with class.
Classical dance danced for national guests especially from China. Dancers were only males from samurai family appointed by the government and developed under government protection. The theme of dancing is celebration of life, love and harvest. Costume is usually luxury, gorgeous and sublime, the dancing is so elegant and beautiful.
Another folklore dancing was developed after disposition of Ryukyu Kingdom in 1879, the professional dancers lost their job and found the way to live as performer for general people. The theme is about daily life of people, love story, prayer for good harvest and family, costume is simple and casual. Usually its is upbeat and freestyle. We have great female dancers after WW2.
Ryukyu dance has some influence by Japanese dance and some typical movement was on the oldest song book in Okinawa.
Ryukyu Dance at Urashima
We have mix program of classical and folklore dance 10 songs everyday. All dancers are rewarded rookie of the year and qualified top dancer reward. Enjoy well trained and high quality dancing.
かぎやで風 KAGIYADEFU
上い口説 NUBUI KUDCHI
貫花 NUCHIBANA
繁昌節 HANJO-BUSHI
加那ヨー天川 KANAYO-AMAKAWA
四つ竹 YOTSUDAKE
鳩間節 HATOMABUSHI
谷茶前 TANCHAME
花風 HANAFU
大漁節 TAIRYOBUSHI
太鼓ばやし TAIKOBAYASHI
日傘 HIGASA
黒島口説 KURISHIMA KUDUCHI
海のチンボーラー UMI NO CHINBORA
祝賀の舞 SYUKUGA NO MAI
獅子舞 SHISHIMAI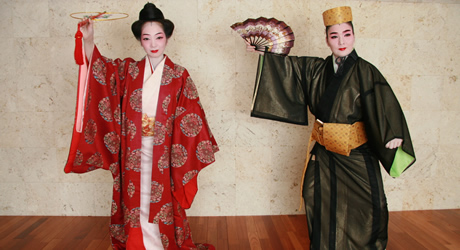 KAGIYADE FU
This is the most powerful and popular celebration song. Best of the bests number to perform for the king and his guests in Ryukyu Kingdom era. This number always open the ceremony of celebration and party. This is the dance to celebrate the beauty of life.
---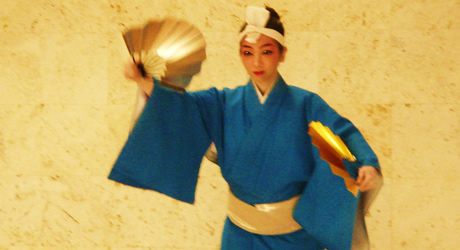 NUBUI KUDUCHI
This is the song about the messenger of Ryukyu government in 18th century who travel to EDO (Tokyo) via Kagoshima (Nearest port in Japan, then they will be on road trip). The story of the song is praying for the safety of journey and hold the tears of good-bye to family and friends on the way to the port of Naha. The ship leave Okinawa and to reach to the port of Kagoshima safely. This is soul-stirring dance with two fans.
---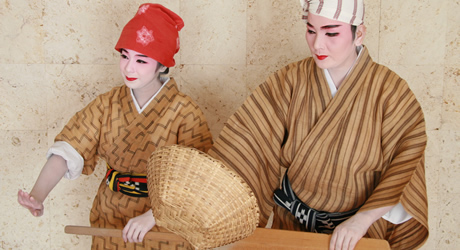 TANCHAME
It's showing the daily life of fisherman's village, Onna village on west coast of Okinawa. Men go to fish in Tancha beach and ladies go to sell them. The dress is made with abaca cloth and dancing with oar and basket.
---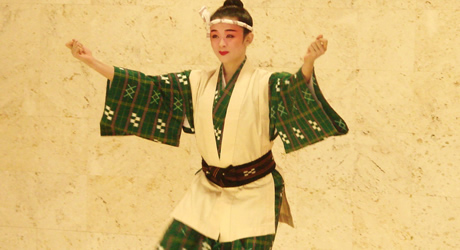 HATOMA BUSHI
This is talking about the beautiful nature of Hatoma-jima island which is part of Yaeyama islands, outlaying island of Okinawa. Originally it was slow and mellow, but actor Mr. Iraha Ikichi in Taisyo era adopted "Kappore" feeling from Japanese dance and modified to upbeat and pop style.
---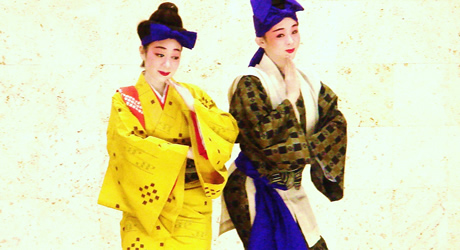 KANAYOAMAKAWA
One of the most popular love song in Okinawa. The first part of the song is showing the passion of love between the guy and lady to use flower print towel and long towel. The second part showing fun and joy of dating around the water with fast Syamisen play.
---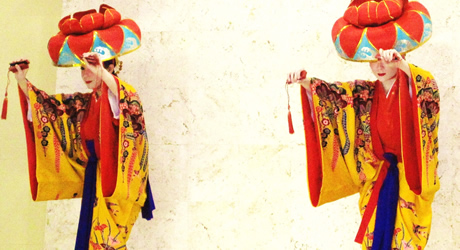 YOTSUDAKE
This is the most elegant, powerful and gorgeous dance with Bingata pattern kimono, flower hat and bamboo castanets. Lyrics saying, "please come to see me in secret like a moonlight filtering down through the trees. How greatful to dance in such a beautiful venue"
The flower hat representing rich and beautiful nature of Okinawa. Flower is lotus and blue color if from Okinawa's sky and ocean. The yellow color was considered as the most noble in China in old days, so that Ryukyu government use it formal wear in Syuri castle. Enjoy the graceful dance with bamboo castanets sounds.
---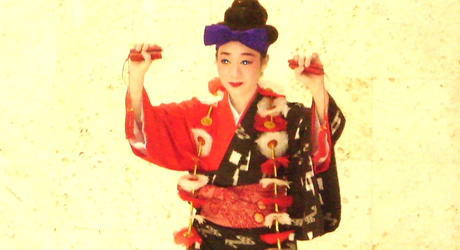 NUCHIBANA
The lei on dancer is called "Nuchibana" with Losen style of wearing indigo kimono and headpiece. The first part showing that the lady in love to collect Sakura petal from the river to make a garland of flowers to show her love and the second part to show the joy of love.
---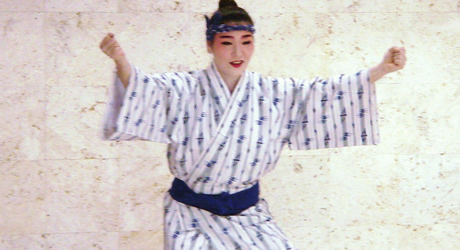 HANJO BUSHI
We have annual harvest festival in all over Okinawa and usually dedicate Karate and dace with stick to the god and mother nature. This song was inspired by the festival and adopted some Karate movement and cherish what we get from the nature.
---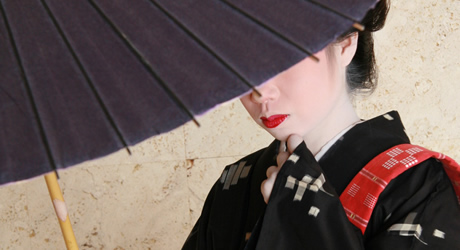 HANA FU
A sad love story of the lady working as Geisha and her lover. She came to see his man off from the port without showing up. The way of wearing kimono is rare style without obi belt. Indigo umbrella, white sock and red hand towel is simple yet beautiful to express her sadness.
---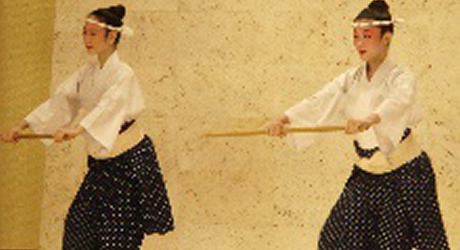 TAIRYOUBUSHI
Celebrating big catch with dynamic movement to show the sprits of fisherman.
---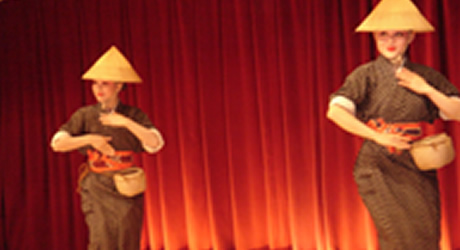 UMI NO CHINBORA
CHIMBORA means funny shape shellfish and this song is talking about funny lady in comical way with CHIMBORA.
---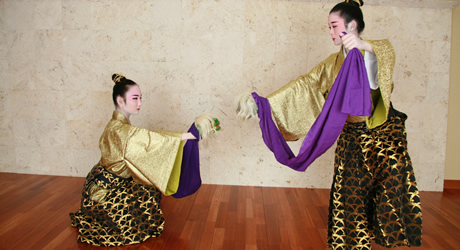 SHISHIMAI
Lion dance with dynamic movement. The lion put evils away and bring good luck and happiness.
---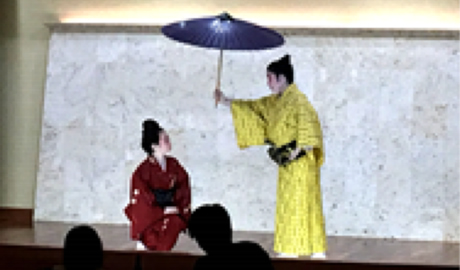 AI-AI-GASA (Sharing umbrella)
Couple is under one umbrella to share, showing the passion of love.
---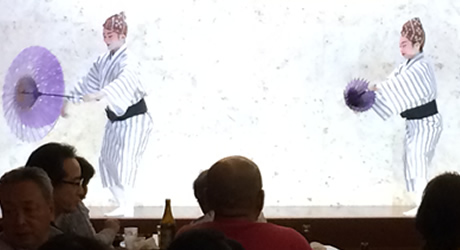 KASANO HATOMA BUSHI
Describing the beauty of Hatoma-jima island and praying for the good harvest on the island.
---
NAKAZATOBUSHI
Modern dance created in Meiji era and played in the theater with acting and dancing.
Love song the two in love to say, "Give me a flower when your place called flower island in blossom season"
---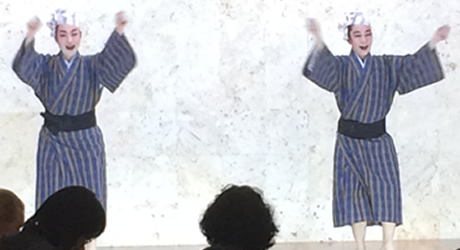 KURUSHIMA KUDUCHI
Describing the positive attitude of farmers from Kuroshima island and praising the mother nature.
---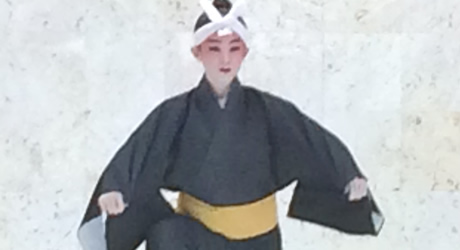 ME NU HAMA
Me nu hama is the beautiful beach in northern shore of Naha city. Describing the beautiful view and birds with enagetic and dynamic dance with young man.
---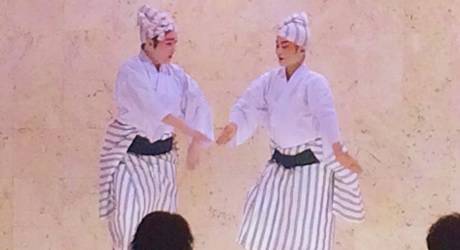 CHODEGWA
"Ichariba chode" is one of the major Okinawa mindset, means "We are brother and sisters once we meet"
The dance showing the spirit with Karate movement.
---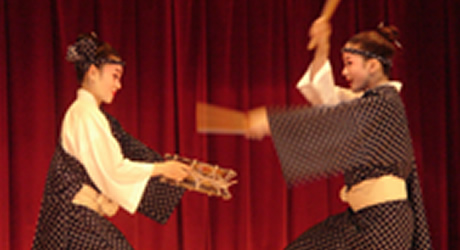 TAIKO BAYASHI (Modern)
Inspired by EISA drum. Energetic dance by paring up with drums and sticks.
---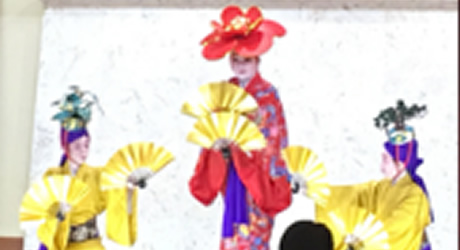 SHO-CHIKU-BAI(Pine tree, bamboo and plum)
Sho is pine tree, representing long life and celebration. Chiku is bamboo, representing honesty and genuine, Bai is plum, representing gorgeousness. This is the dance for New Year celebration.
---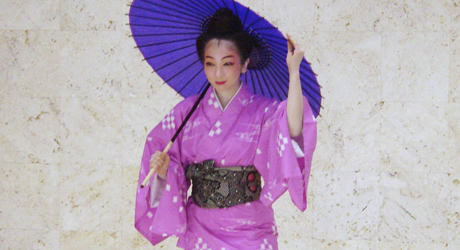 HIGASA
Modern dance created in Showa era. To express the excitement of a girl who is about to meet her love.
---
NANYOU HAMACHIDORI
Actor Mr. Iraha Ikichi made this when he was on his tour in south pacific ocean. Thinking about hometown from the place far away.
---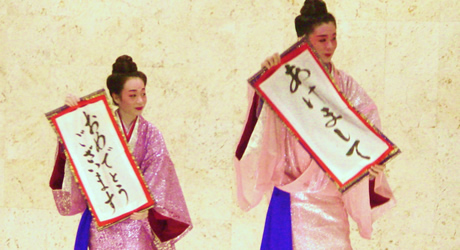 SYUKUGA NO MAI
The celebration dance.
---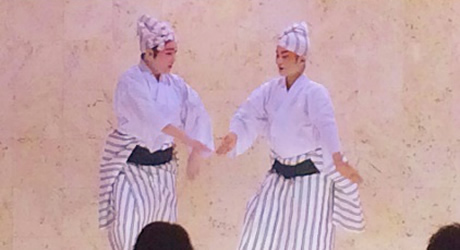 HAMACHIDORI
Watched plovers on the beach made him think about his love left behind in the hometown. Missing her so much.